13 April 2022
Q&A with Professor Saxon Smith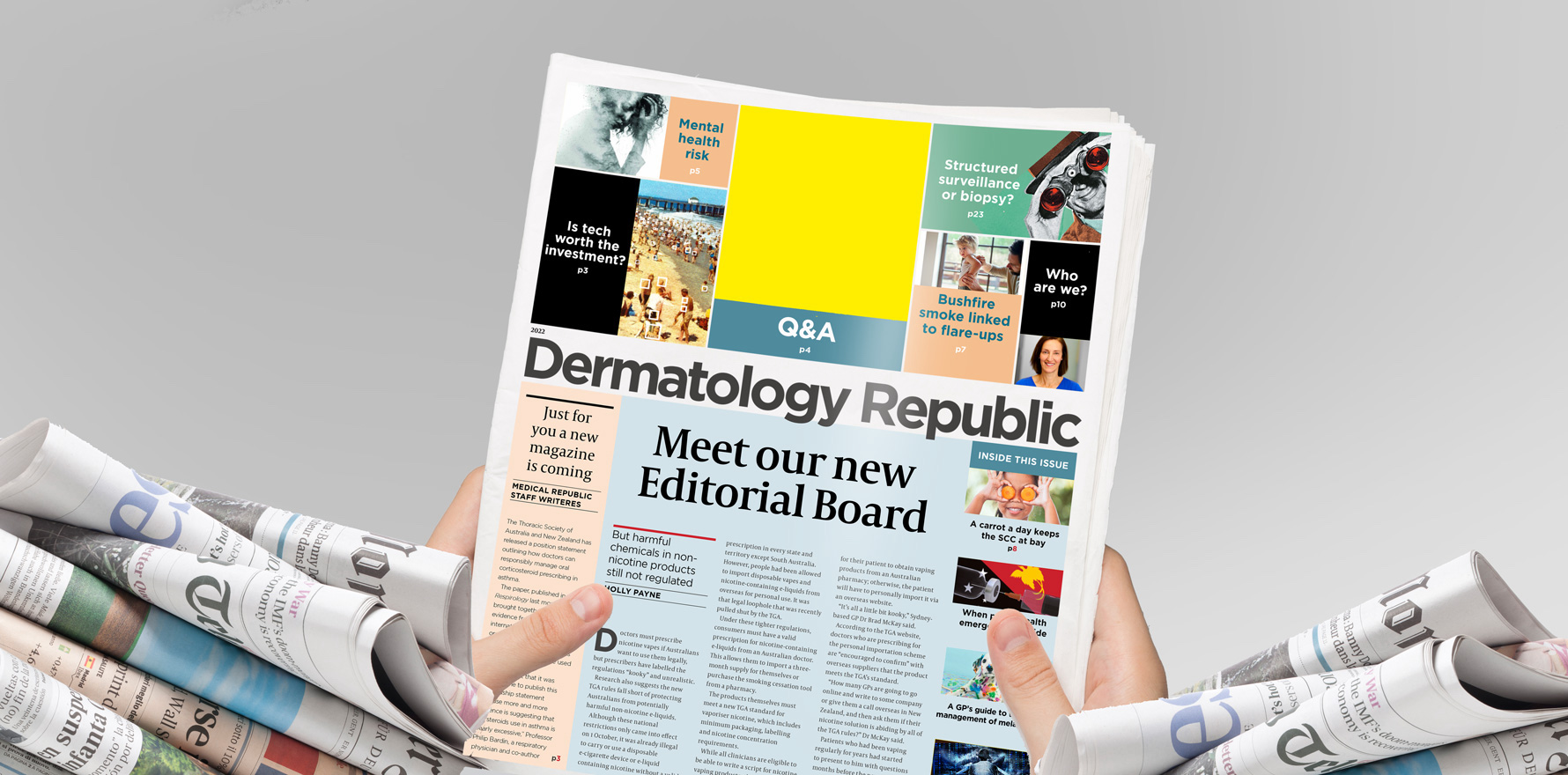 The Dermatology Republic's editorial board member shares his thoughts on the biggest dermatological challenge facing Australia this year.
---
Dermatology Republic has an impressive editorial board of experts who oversee our content and share their thoughts on issues that are relevant to Australian dermatologists.
Among them is Clinical Professor Saxon Smith, a fellow of the Australasian College of Dermatologists (ACD). He is a familiar face outside dermatology, as a past president of the AMA (NSW) and from his other positions at the association and college over the years.
Professor Smith has practiced dermatology at several teaching hospitals, including St Vincent's, John Hunter, Liverpool and Royal North Shore. Currently, he is in private practice in Gosford and St Leonards, and is a visiting medical officer at the Sydney Adventist Hospital. Professor Smith is a spokesperson on various health issues and public health campaigns on behalf of the AMA and the ACD, and is involved in various committees and advisory boards for government, not-for-profit and private sectors.
In 2010, Professor Smith received the Adrian Johnson Prize from the ACD for his research and publication around topical corticosteroid phobia. As a clinical professor with the Australian National University (ANU) and an Honorary Associate with the University of Sydney, he has been involved in teaching and supervising medical school students, and PhD, masters, and honours candidates. He sat down with Dermatology Republic to tell us more.
Tell us a bit about yourself and what attracted you to your field of medicine in the beginning?
I was originally attracted to dermatology whilst at high school. I was a surf life saver on the northern beaches of Sydney and would notice the lack of sunscreen use by beach goers on a daily basis. This was despite the regular media blitz by government and the Cancer Council trying to raise the awareness around skin cancer and sun protection. Later, during medical school and beyond, it was the amazing variety of patient presentations on a daily basis as well as the mixture of medical and surgical components that really 'lit my fire' for dermatology.
Who made an impact on you during your training and why?
I was fortunate to spend time during my training in major teaching hospitals in Sydney and regional NSW, as well as in private practices in regional NSW. The overall passion that all the dermatologists I trained with in all these settings was universal. They loved what they did and loved being able to share their experience and knowledge with every registrar that was lucky enough to train under them. This enthusiasm was infectious and created amazing learning opportunities for me.
What is the area of dermatology that most interests you and why?
I have a broad range of areas of interest in dermatology. I have done a lot of research and manage a lot of patients with inflammatory dermatoses such as atopic dermatitis, psoriasis and hidradenitis suppurativa. In many ways, we really are in a golden age of the management of these conditions, and of our ability to transform the lives of patients suffering from these conditions – which is incredibly satisfying. On the other hand, I spent many years working as a surgical dermatologist in a major teaching hospital, as well as participating in trials and research around melanoma and exploring the attitudes and educational deficiencies in the general population around sun protection behaviours and sunscreen use. The chance to change the future risk of skin cancer in Australians is a rewarding challenge.
What is the biggest dermatological challenge for Australians this year?
The biggest dermatological challenge for Australians remains skin cancer. It is our 'national cancer.' Everyone has heard about melanoma and the aggressive nature it can have. However, melanoma only accounts for around 4% of all skin cancers each year. The non-melanoma skin cancer sub types of basal cell carcinoma (BCC) and squamous cell carcinoma (SCC) are much more common, accounting for around 95% of all skin cancers yearly. With covid causing significant access issues to health care over the last two years, these non-melanoma skin cancers have been presenting later, meaning more complicated treatments and more morbidity to the unfortunate patient.
How has covid affected you and your practice?
Covid has changed some aspects of my practice with the universal access to telehealth. This has enabled flexibility to continue to provide care to appropriate patients despite lockdowns and isolations. It has also allowed me continuity of care with patients who have opted for tree-changes or sea-changes, who previously would have had to find a dermatologist closer to their new residence. However, it is too cumbersome and medico-legally difficult to perform skin checks via telehealth.
What would you say are your two greatest career highlights so far?
One of my greatest career highlights was the time I spent in medico-politics with the AMA. This culminated in my two-year NSW state presidency and six years of Federal Council. This was a wonderful opportunity to work with passionate colleagues from all areas of medicine to try and influence positive change in the healthcare system for all Australians. I am very grateful to have had that unique opportunity. On the other hand, the most humbling highlight of my career was recently being award a Member of the Order of Australia (AM) for services to dermatology, dermatology research and professional organisations. I can honestly say that no person is an island, and that there have been so many collaborators, supporters, mentors and friends along my journey that being singled out like that was both a surprise and an honour.
What research are you working on now?
I am currently collaborating with some neurologist colleagues exploring the interface between psoriasis and multiple sclerosis.
Professor Smith has more than 90 publications and over 130 published abstracts in national and international peer-reviewed journals, and has also presented at national and international conferences. He is co-editor-in-chief of Opinions and Progress in Cosmetic Dermatology (the journal for the Australasian Society of Cosmetic Dermatologists).