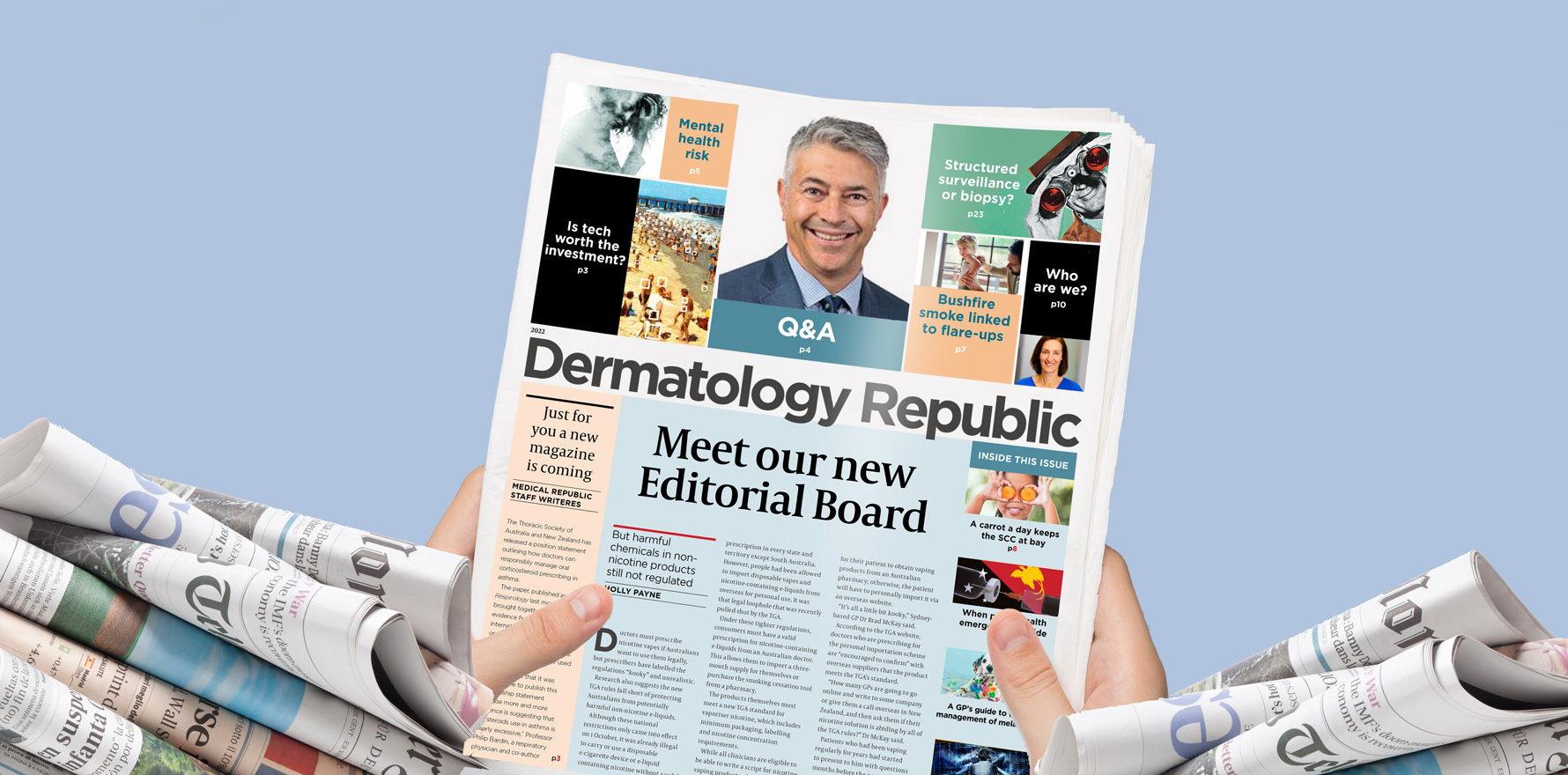 Dermatology Republic's founding editor shares his thoughts on the areas of dermatology that interest him the most.
---
Professor Rodney Sinclair has joined Dermatology Republic as our founding editor. He needs little introduction to Australia's dermatology community, as a clinician, academic, researcher, supervisor, businessman and regular media commentator.
Professor Sinclair is a professorial associate in the department of medicine at the University of Melbourne, director of Sinclair Dermatology Institute for Research, Education and Clinical Trials (DIRECT) and director of dermatology at the Epworth Hospital, a 700+ bed, not-for-profit private hospital in Melbourne.
Professor Sinclair is also co-founder and past-president of the Australasian Society for Dermatology Research (ASDR), co-founder and current president of the Australasian Hair and Wool Research Society (AHWRS) and past-president of the Skin and Cancer Foundation of Victoria. He is a vice-president of the International Society of Dermatology, the International Academy of Cosmetic Dermatology, and a board member of the ASDR and AHWRS. Professor Sinclair was secretary general for the International Congress of Dermatology in Melbourne, held in November 2021, and is congress president of the World Congress of Hair Research that will be held in Melbourne in November this year. He has supervised more than 15 post-graduate research students and helped establish the PhD/FACD program in Australia to develop clinician scientists.
Professor Sinclair tells us more.
What is the area of dermatology that most interests you and why?
These days I work mainly in the area of emerging therapies for complex inflammatory skin diseases. I was involved in the development of biologic therapies for psoriasis, urticaria, hidradenitis suppuritiva and atopic dermatitis form their inception and currently am working on novel therapies for alopecia areata, vitiligo, systemic lupus erythematosus, sarcoidosis and androgenetic alopecia.
What is the most interesting piece of research you have published recently?
In the past three months our group has published 20 manuscripts. The highlights were our publication on the use of baricitinib in the NEJM, the use of vunakizumab in psoriasis in the JAAD, and the comparison between abrocitinib and dupilumab, also in the NEJM.
What is the greatest issue facing Australian dermatologists this year?
The challenge for Australian dermatologists is to keep abreast of the emerging technologies that are transforming clinical practice.
What would you say are your two greatest career highlights so far?
My work over the past 20 years on the use of oral minoxidil in androgenetic alopecia, telogen effluvium, alopecia areata, cicatricial alopecia and chemotherapy induced alopecia has had a led to profound changes in the treatment of hair loss globally. This has been very rewarding. Our work on scalp cooling caps to prevent chemotherapy induced hair loss and the subsequent introduction of these caps into oncology centres across Victoria has led to a major reduction in the morbidity experienced by women undergoing cancer chemotherapy.
Seeing the impact of JAKi on my patients with alopecia areata, and the transformation these drugs are making on my patients' lives is very rewarding. Having battled away for 25 years with nothing much to offer these patients, I know how important these treatments are. Seeing my former research students graduate as dermatologists and then take senior leadership roles in the profession provides great satisfaction. Over 25 of my former students are now specialist dermatologists.
What research are you working on at the moment?
Vitiligo is the next major challenge. We presented a late-breaking abstract at the 2022 Annual Meeting of the American Academy of Dermatology in March on the successful use of ritlecitinib. It's a good start, but more work needs to be done.
Journal of the American Academy of Dermatology 2022, online 10 January